For et par måneder siden var jeg til fodboldkamp,- ja indrømmet, det er måske ikke det mest ultra feminine men sandheden er, at jeg godt kan lide at se fodbold, har klienter der er professionelle fodboldspillere, og da jeg var yngre, kunne jeg stort set Premier League spillerne udenad. Derudover er fodboldkampe bare et glimrende sted at netværke, når jeg er selvstændig.
Nå men i pausen sad jeg så og snakkede med en kammerat som så sagde:
Sådan er det med stærke kvinder som dig Christina, det er nogle gange lidt svær for os mænd!
SÅDAN!
Så var jeg proppet ned i kassen med mærkatet: STÆRK KVINDE,-  Kan selv og vil selv.
Og jeg må indrømme, det er ikke første gang, jeg har hørt det. Det kan udtrykkes forskelligt og her er en anden, jeg har fået: Hvorfor er du ikke lidt mere feminin Christina? (sagt på første date for en del år siden, og det han mente var: hvorfor viser du ikke lidt mere hud!)
Så er det at jeg ligner et måbende spørgsmålstegn, eller en der lige er faldet ned fra månen, for når jeg kigger på mig selv ser jeg en ultra feminin kvinde meget ofte iført kjole og stiletter, med langt mørkt hår og make-up, som meget ofte også er total fjantetøse- og Nynne-agtig.
Eler hvad med, du er sådan en superwoman og helt vildt energisk!
Jeg har virkelig undret mig og filosoferet meget over disse kommentarer, og hvordan jeg virker på andre. Hvad er det jeg sender ud?
Ja, jeg har haft en skolegang med massivt mobning, så ja, jeg har lært at klare mig selv meget tidligt og endda også lært at slå fra mig både verbalt og fysisk (og bare roligt, jeg slår ikke mere :-))
Ja, jeg er alenemor, så ja jeg har lært at klare mig selv og komme luft i dækkene, klippe hækken, fælde træer, styre økonomien, ordne forsikringer, og bakke med traileren – ofte iført klip klapper eller hæle på genbrugspladsen (hvilket IKKE kan anbefales :-))
Ja, jeg har rent faktisk meget energi og jeg er også meget udadvendt og imødekommende, men det gør mig da ikke til en superwoman. Jeg har bare lært at prioritere mine kræfter og har valgt et positivt livssyn. Og når jeg er flad og viser det, så oplever jeg at andre har rigtig svært ved at rumme det og mig. (men jeg fortsætter nu med at være flad og krøllet en gang imellem :-))
Ja, jeg er selvstændig erhvervsdrivende og har lært at tage beslutninger – ofte store og hurtige beslutninger, og nogle gange med store beløb involveret både på den ene og den anden side af nullet, så ja jeg har lært at navigere i kaos og have is i maven.
Gør det mig til en stærk kvinde?
Gør det mig maskulin?
NEJ; det tror jeg faktisk ikke, at det gør.
Det gør mig til en selvstændig feminin kvinde, der har lært at tænke selv, klare sig selv, og handle selv for der er ingen andre der gør det!
Og er du sindssyg jeg ville ønske, at der var en der hjalp mig med det hele, men sådan ser mit liv ikke ud pt.
Jeg er utrolig sårbar og jeg har også dage, hvor jeg bander det hele langt væk. F.eks. i dag, da jeg skulle slæbe juletræet ind, så det kunne tørre, og måtte save grene af for at det kunne bakses ned i juletræsfoden. – og jo jeg bad ungerne om hjælp.
Eller når uindbudte gæster har rodet alt igennem og stjålet mine ejendele, så græder jeg og sætter mig hulkende på køkkengulvet og ønsker at et par stærke arme tager rundt om mig og fortæller mig at alt er okay, og jeg kan være tryg.
Eller når græsset står i en halv meters højde fordi jeg ikke lige har haft tid til hverken at slå det eller fjerne ukrudt, så ville jeg nyde at der var en mand, som helt naturligt er stærkere end mig, til at hjælpe mig med at skubbe maskinen, samle græsset og og hjælpe med at køre på affaldsstationen.
MEN det er der ikke….
Og derfor må jeg gøre det selv, og jeg må rejse mig, tørre tårerne væk og fortsætte med at leve livet!
Det betyder nødvendigvis IKKE, at jeg er en stærk kvinde, men det betyder at jeg er en feminin kvinde, der har lært at gøre tingene selv, fordi de ikke ordner sig af sig selv.
Mit juleønske er, at vi holder op med at putte hinanden ned i kasser og kommer mærkater på:
Nåååå du er nok sådan en der er spirituel! (læs Hippie eller underlig)
Nåååå du er også bare en stærk kvinde, der skræmmer mændende væk! (læs man-eater eller umulig at leve sammen med)
nåååå du er også så maskulin og beslutsom! (læs fremme i skoene, ikke feminin og vil bestemme alt)
Og sådan kunne jeg blive ved.
Kasserne passer ikke på nogen af os – og alligevel passer alle kasserne på os.
For vi er det hele.
Jeg er ikke kun en stærk kvinde, jeg er også sårbar og svag, og har brug for hjælp- og VIL meget gerne have hjælp.
Jeg er ikke kun maskulin, men utrolig feminin hver gang muligheden byder sig, og jeg har ikke brug for at bestemme alting altid – tværtimod!
Jeg er ikke kun superwoman med masser af energi, men også utrolig sensitiv og har brug for masser af alene-tid til at lade op, og elsker at lave ingenting!
Jeg er ikke kun til fest og farver, men elsker at tage til havet eller i skoven og gå en lang tur!
Jeg er ikke kun beslutsom, men kan nogle gange være lang tid om at finde ud af, hvad jeg vil.
Jeg er ikke kun spirituel, jeg er ikke kun drømmende, jeg er ikke kun hausfrau, jeg er ikke kun en pæn pige, jeg er ikke kun doven, jeg er ikke kun intelligent, jeg er ikke kun overskudsagtig, jeg er ikke kun mor, jeg er ikke kun underlig, jeg er ikke kun fjollet, jeg er ikke kun seriøs, jeg er ikke kun smuk, jeg er ikke kun businesswoman, jeg er ikke kun forfatter, jeg er ikke kun hende i bikinien, jeg er ikke kun …. osv…
Jeg er også alt det modsatte og mere til.
Og så er jeg slet ikke formet til at passe i en kasse 🙂
Jeg er ganske enkelt MIG med alle mine egenskaber ligesom du er DIG med alle dine egenskaber, og hvis vi hver især kunne være okay med den vi er, hvis vi kunne acceptere og elske os selv som det enestående menneske, vi hver især er, så kunne vi også lade andre være som den de nu en gang er, uden at de behøvede at kommes ned i en kasse påklistret et mærkat.
Juleknus fra en stærk sårbar feminin kvinde med store overarme HOHOHOHOHO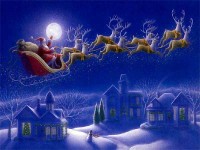 www.christinaaros.dk